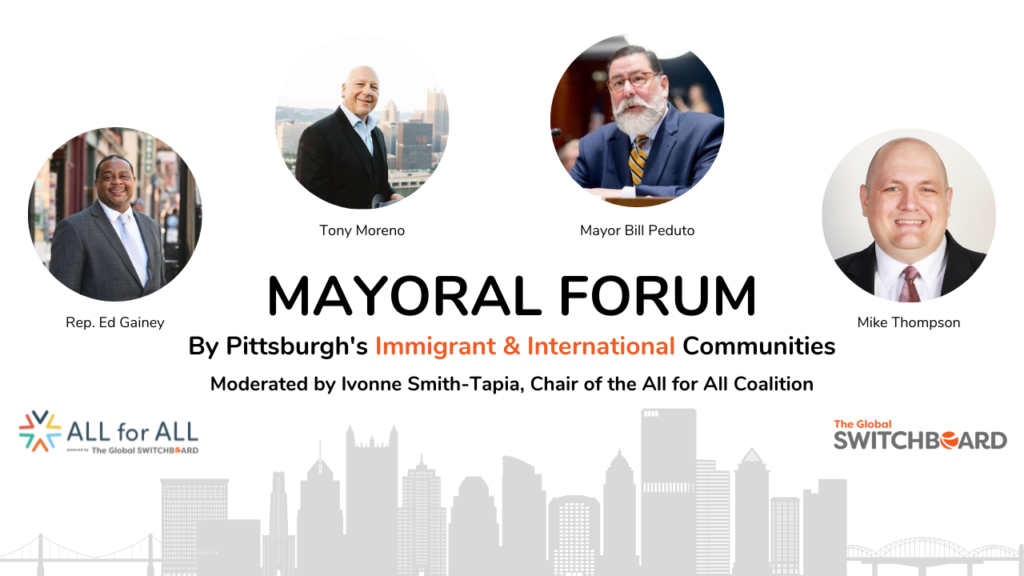 On May 6, 2021, the All for All Coalition, convened by The Global Switchboard, hosted a Mayoral Forum by Pittsburgh's Immigrant and International Communities. This forum featured the four democratic candidates running for mayor of Pittsburgh; Representative Ed Gainey, Mr. Tony Moreno, Mayor Bill Peduto, and Mr. Mike Thompson. The goal of this forum was to elevate and center the voices of immigrant and refugee communities in an election cycle that has neglected and marginalized the unique issues that are relevant to a liveable city for immigrants and internationals. The overall livability of our city is strongly reliant on the inclusion and empowerment of immigrants and internationals in the fabric of this city regardless of country of origin, religion, language, social-economic status, race, gender, or sexuality.
The questions submitted for this forum were curated by All for All Coalition members who have organizational and individual ties to lived immigrant and international experiences in Pittsburgh. This forum was intended for all Pittsburghers but was specifically dedicated to all immigrants and internationals that call Pittsburgh home as we head to the polls on May 18th and November 2nd, 2021.
The full video recording, as well as a written transcription, for the entire forum can be found below, in English. The video is also available on The Global Switchboard's YouTube Channel and the All for All Facebook page.
To make this forum linguistically accessible, we have chosen six questions that highlight the candidates' views on issues related to immigrants and internationals. The topics of these questions are:
Language Access
Culturally Informed Education and Child-Care
Supporting Immigrant Entrepreneurs 
Confronting Wage Theft
Policy Towards ICE (U.S. Immigration and Customs Enforcement)
Providing Universal Representation 
The question selection criteria were based on the substantiveness of the answer to which each candidate can be held accountable if they are elected as mayor. These responses have been manually transcribed by The Global Switchboard team and translated by Global Wordsmiths. The translated text of each of the selected questions, along with a video clip of the corresponding question (in English) can be found below.
Disclaimer: The All for All Coalition does NOT endorse any of these policy stances by the candidates nor does it endorse any of the candidates for mayor of Pittsburgh. The responses highlighted here have NOT been fact-checked. To maintain neutrality, the All for All Coalition is translating the candidates' responses without commentary. We hope that these translated responses will provide additional resources for voters to make an informed decision.