Switchboard 2018: Activating Our Network | Tue February 6, 2018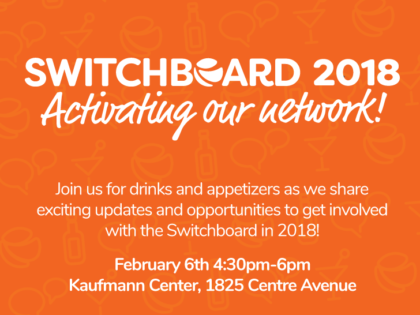 Tue February 6, 2018
Start: 4:30 pm
Kaufmann Center
Join The Global Switchboard for drinks and appetizers as they share exciting updates and opportunities to get involved in 2018!
The Global Switchboard was launched in 2014 for the people, projects and organizations who connect the Pittsburgh region to the world. They put their ear to the ground and started listening to scholars, civic actors, nonprofit organizations, policymakers and concerned citizens. They engaged in an internal strategic planning process with their board to refine their values and state their mission clearly: to fosters effective global engagement and inclusive dialogue in Pittsburgh. For their first major initiative, they focused on building community through their coworking space – the perfect location to bring people together, encourage collaboration, and increase our community's visibility. By the time they reached capacity indoors, they had begun their second major undertaking: a digital platform to connect all individuals and organizations across our global engagement landscape. In October of 2017, they held a launch party to preview the The Global Switchboard Hub. At long last it is ready.
As they take stock of where they are and are going. Their mandate is stronger than ever: to leverage their coworking space and digital hub in order to amplify the impact of globally focused individuals and organizations in their network. As they kick off the new year, the Switchboard is moving beyond network builder, to network activator.