Hub + Spoke 2018 | Sat November 17, 2018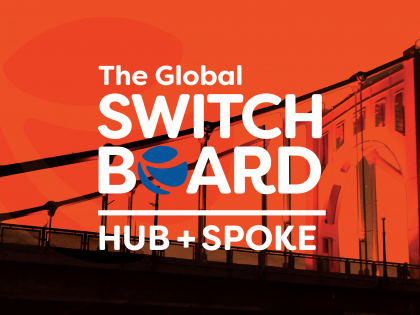 Sat November 17, 2018
Start: 6:00 pm — End: 10:00 pm
Energy Innovation Center
Join us for our second annual fundraiser!
At Hub + Spoke 2018, guests will be greeted by member organizations of The Global Switchboard network. Through interactive experiences, guests will learn more about each organization and the impact of their work both globally and locally. Guests will mingle over food and drink, while enjoying views of the city and a series of montages containing personal stories drawn from the social media challenge, #BurghMeetsWorld. Guests will also learn more about The Global Switchboard's collective impact work and how they can get involved.
Following the opening reception, guests will gather for a formal presentation. The presentation will include a screening of short video stories highlighting how global issues impact local individuals everyday. Following the videos, The Global Switchboard and membership coalitions will present on the collective impact work in the following areas: equity in global education and workforce development in the immigrant and refugee communities. Guests will be given opportunities to get involved with and support this work! Appetizers and an open bar will be provided at the event!
Ticket Prices:
Standard Plus: $75
Standard: $45
Students: $20
**Please note that the difference between the ticket prices is simply related to one's capacity to pay, and is not associated with benefits or access to phases of the event. This event is a fundraiser, and we want to see everyone in the community involved and represented. Please select the ticket price that is right for you. If the available ticket costs present a barrier to your attendance, please contact our Program Manager at alaa.mohamed@theglobalswitchboard.org.
**We will have onsite childcare available provided by Flexable for children ages 2-18. If you're interested, please email our Director of Operations at sara.noel@theglobalswitchboard.org.