Free Our Families! NO To Family Separation & Detention! | Fri July 17, 2020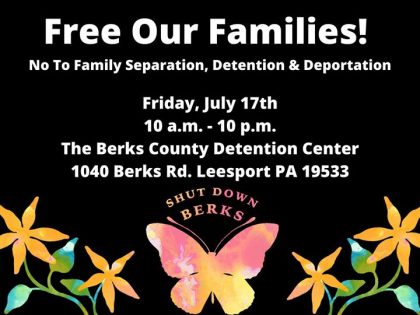 Fri July 17, 2020
Start: 10:00 am — End: 10:00 pm
On June 26th, Federal Judge Gee's once again ordered ICE to release children from the three family detention centers by July 17th. Attorney's representing families in Pennsylvania and Texas have serious concern that ICE may use this ruling to separate children from parents. These are Black and Brown families they want to rip apart.
We need to fight that families are freed together! We will never tolerate Family Separation, Detention or Deportations EVER!
Join us as we mobilize to the Detention Center itself on July 17th to demand families are freed, children remain with their parents and that we finally #ShutDownBerks #EndFamilyDetention #FreeThemAll
(Times are subject to change, please double check closer to the event to confirm times) For all actions we ask that participants remain 6 feet apart and wear face masks.