BurghMeetsWorld: Whose Intelligence is it anyway? | Tue August 6, 2019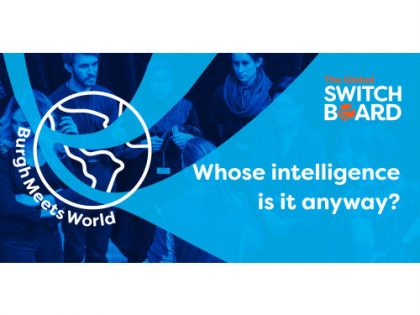 Tue August 6, 2019
Start: 5:30 pm — End: 8:00 pm
Ace Hotel Pittsburgh
Questions?
Artificial intelligence impacts us all. Let's make sure it's designed for all too.
For this installment of BurghMeetsWorld, The Global Switchboard has worked closely with community leaders in Pittsburgh to present a forum that asks "Whose intelligence is it anyway?"
Artificial intelligence is human-made technology that is meant to serve all humans around the world. With the vast diversity of experiences that we all bring, we must ensure that AI is designed with all of us in mind.
Join us to hear from community leaders who are spearheading a new movement that works to ensure your voice can actively influence these technologies, explore how to make AI more equitable, and ensure that we all have a voice in influencing its future in our city and around the world.
Free food will be provided!
_____________________________________________________________
About the Program:
BurghMeetsWorld is a forum that honors your voice within the story of how Pittsburgh meets the world. Through regular public events, BurghMeetsWorld is an outlet for community responses to the local dimensions of global issues.
BurghMeetsWorld is a program offered by The Global Switchboard, an organization that stewards a diverse group of individuals and organizations to transform the Pittsburgh region into a more globally engaged and equitable community. The ideas that you share in this forum will be carried forward to inform the Switchboard network's work, future programming, and State of Global Engagement data project.
Together we determine how Pittsburgh meets the world.