BurghMeetsWorld: What do we do with fear? | Thu June 27, 2019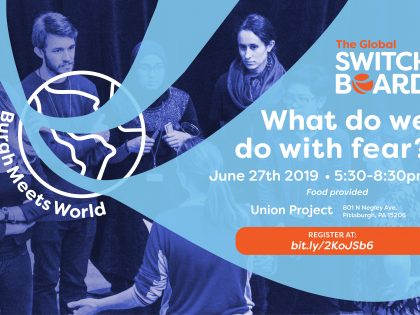 Thu June 27, 2019
Start: 5:30 pm — End: 8:30 pm
Union Project
Questions?
4124717852
How does the pervasive "fear of others" impact us on a global, local, and personal scale?
For this installment of BurghMeetsWorld, The Global Switchboard has worked closely with several religious and community leaders in Pittsburgh to present a forum that explores "What do we do with fear?" We will focus on how the pervasive "fear of others" is impacting us on a global, local, and personal scale. This three part evening includes a personal story-telling salon (facilitated by Ethan Lipsitz of Extremist Love), a series of perspectives on the impact of fear on several of Pittsburgh's communities, and an opportunity to form collective action responses.
Agenda:
5:30pm: 
Doors Open, Food Served
6:15pm: 

Part I – Personal Storytelling Salon
We will begin the evening with a look at how "fear of the other" impacts us all. This storytelling salon will provide everyone with an opportunity to share personal stories on the evening's theme. We will be joined by Ethan Lipsitz, an LA-based artist who leads Extremist Love, an arts healing program.

Part II – Community Storytelling Salon
Representatives from Jewish, Muslim, African American and Youth-led initiatives will share perspectives on the traumatic effects that the "fear of the other" has had on our world and our city. These personal stories will help to frame the wide-reaching effects of fear-based attitudes towards newcomers.
Part III – Opportunities for Collective Action
The Global Switchboard will facilitate a group process to outline actionable community-based responses
_____________________________________________________________
About the Program:
BurghMeetsWorld is a forum that honors your voice within the story of how Pittsburgh meets the world. Through regular public events, BurghMeetsWorld is an outlet for community responses to the local dimensions of global issues.
BurghMeetsWorld is a program offered by The Global Switchboard, an organization that stewards a diverse group of individuals and organizations to transform the Pittsburgh region into a more globally engaged and equitable community. The ideas that you share in this forum will be carried forward to inform the Switchboard network's work, future programming, and State of Global Engagement data project.
Together we determine how Pittsburgh meets the world.