Leave a Comment
For many recent immigrants and refugees, it can be difficult to navigate the challenges of adjusting to a new country and its culture while dealing with the added difficulty of a language barrier. Global Wordsmiths minimizes this obstacle by providing Pittsburgh's immigrant and refugee populations with free translation and interpretation services through their Language Access Project. In the upcoming months, the flagship program will provide more meaningful programming by working on a series of specific long-term initiatives such as increasing 2020 Census participation and partnerships with local schools.

The Language Access Project utilizes the expertise of university students around Pittsburgh who are native speakers or have native-level fluency in another language. The students are hired as interns for one or two semesters and are either given class credit or paid for their work by Global Wordsmiths. The interns participate in an intensive translation and interpretation program for professionals before they are paired up with a local partner organization that they will will assist. Current partners of the program are the Carnegie Library of Pittsburgh, Pittsburgh Toy Lending Library, and the Greater Pittsburgh Arts Council.

Since the project's conception in Fall 2017, it has expanded to its current capacity of 15 student interns and 13 languages. While the provided languages depend on the expertise of student interns, most languages remain a constant part of the program. Current languages include: Spanish, Nepali, Hindi, Arabic, Mandarin, Korean, Indonesian, Swahili, French, Ukrainian and Japanese.

The intensive professional interpreter training hosts guest speakers in addition to staff members to teach interns about the importance of cultural awareness and confidentiality and the origins and demographics of different immigrant and refugee populations in Pittsburgh. Interns are also trained in a variety of skills used in oral and written translation and interpretation practices.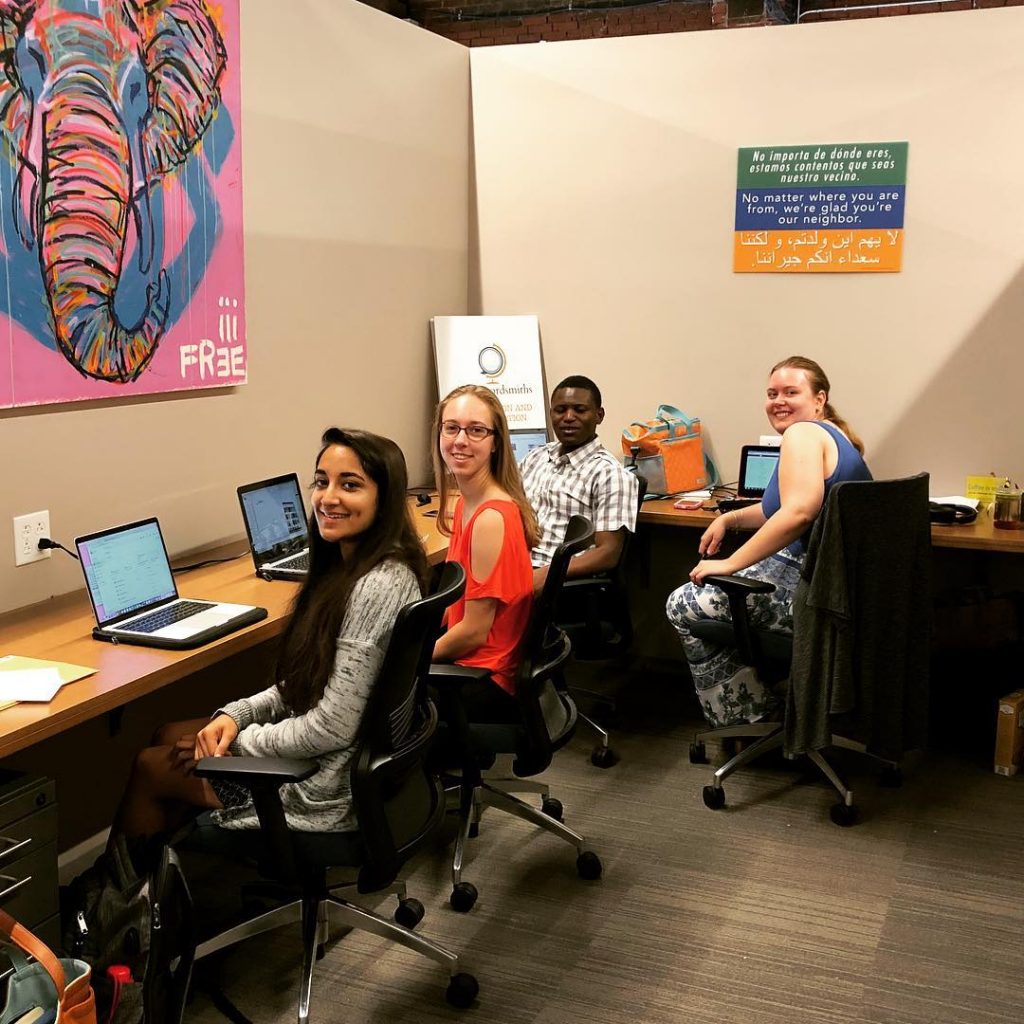 The training program ensures interns are aware of their critical role as interpreters and translators, so they are able to provide maximally beneficial services to the immigrant and refugee populations they work with. Global Wordsmiths' Executive Director Mary Jayne McCullough stressed the importance of responsible interpretation. As she explained, untrained translators often do more harm than good as they have trouble remaining impartial, taking detailed notes, and not conducting conversations on behalf of the person they are interpreting for.

"Being an interpreter is about helping people use their voice, rather than speaking for them"
-Mary Jayne McCullough

The Language Access Project increases the scope of their translation efforts by focusing on translating documents — such as brochures and intake forms — for partner organizations which will continue to be used after the partnership ends. They also train staff at their partner organizations on how to work efficiently with interpreters and translators in the future. In developing long-term language access plans for partner organizations, they hope organizations will be more purposeful in the work they do and will become more accessible to local populations.

From June 2019 to January 2020, The Language Access Project will focus on increasing 2020 Census participation in immigrant and refugee communities. To do this, interpreters will knock on doors, make phone calls and translate documents related to the Census and the importance of participating. From January until May 2020, Global Wordsmiths will partner with local nonprofits for an educational cohort.

Global Wordsmiths is currently accepting internship applications for Fall 2019. Native speakers and graduate students interested in working with vulnerable populations are given preference. Applications for partner organizations are invitation only. If you are interested in applying, contact meredith@globalwordsmiths.com

——
This post was produced through an interview with Global Wordsmith's Mary Jayne McCullough and was written by Anna Bongardino, a spring 2019 intern for The Global Switchboard.