Pittsburgh Playback Theatre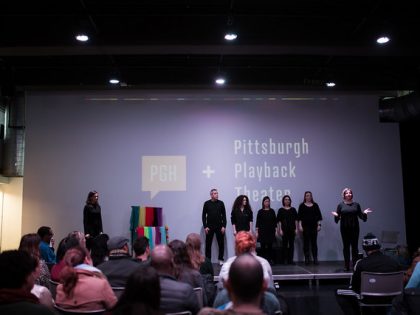 Contact Information

pghplays@gmail.com

Pittsburgh Playback Theatre
Inspiring dialogue and empathetic connection through improvisational storytelling.
Founded in 1986, Pittsburgh Playback Theatre is a community building company that explores and celebrates the human condition through improvisational storytelling. We collaborate with organizations, schools, community groups and businesses to help raise consciousness, while encouraging creative wisdom and action.
A Playback Theatre event is described by co-creator, Jo Salas, in her book Improvising Real Life, as "an original form of theatrical improvisation in which people tell real events from their lives [and] watch them enacted on the spot…Any life experience may be told and enacted in Playback Theatre, from the mundane to the transcendent, the hilarious to the tragic–and some stories may be all of these."
Audience members voluntarily offer personal stories, then witness them come to life through improvised music, movement and dialogue. Playback follows no narrative agenda, but brings dramatic skills and humanity to embody on the stage the concerns and experiences of the audience. Each performance is structured uniquely in conversation with organizers to best suit the needs of the community and honor their truths.