White State | Black Mind, Jaamil Olawale Kosoko | Fri July 31, 2020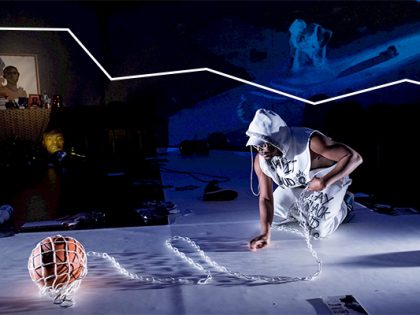 Fri July 31, 2020
Start: 7:00 pm
Join us for an evening with choreographer and poet Jaamil Olawale Kosoko. The event includes a screening of White State | Black Mind, a 2017 film about the making of Kosoko's 2015 performance work #negrophobia. In addition the evening will include a poetry reading by Kosoko as well as a discussion with KST Senior Producer, Ben Pryor.
ABOUT THE FILM 
'We do know, however, what blackness indicates: existence without standing in the modern world system. To be black is to exist in exchange without being a party to exchange. Being black is belonging to a state organized according to its ignorance of your perspective – a state that does not, that cannot, know your mind…. It is a kind of invisibility.
—Bryan Wagner, Disturbing the Peace: Black Culture and the Police Power after Slavery
A film collaboration with Marica De Michele tracing the making of Jaamil Olawale Kosoko's 2015 work #negrophobia, this cinematic glimpse into a singular creative process that attempts to make plain often invisible systems of power, assumptions and cultural categories through abstract, oblique, and alternative readings of society.