What Black Pittsburgh Needs to Know About Covid-19 | Tue June 2, 2020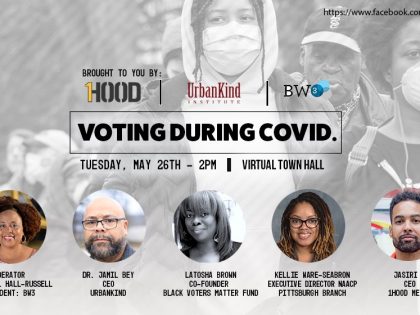 Tue June 2, 2020
Start: 2:00 pm — End: 5:00 pm
Please join 1Hood Media and UrbanKind Institute for What Black Pittsburgh Needs to Know About COVID-19 to discuss the current crisis's impact on Voting. Moderated by Dr. Cheryl Hall-Russell, Pres. of BW3 and featuring remarks from Jasiri X, founder, and CEO of 1Hood Media, Dr. Jamil Bey, CEO of the UrbanKind Institute.
The VIRTUAL town hall will be hosted on the Facebook Live stream of 1Hood Media Tuesday, May 26th at 2pm
This panel will include Co-Founder of Black Voters Matter Fund Latosha Brown and Executive Director at NAACP-Pittsburgh Branch Kellie Ware-Seabron.
The town hall seeks to provide resources and supports for Black Pittsburgh residents and those in SouthWest Pennsylvania who are disproportionately impacted due to the existence of pre-existing medical conditions, failed policy initiatives, medical racism, economic mobility, and misinformation. The virtual town hall is a moment to ask questions, share information, and continue discussions about COVID-19.
The weekly Townhall Tuesday event occurs every Tuesday at 2pm. All are welcome to join.