We Can Do It Again: Victory Gardens | Wed April 29, 2020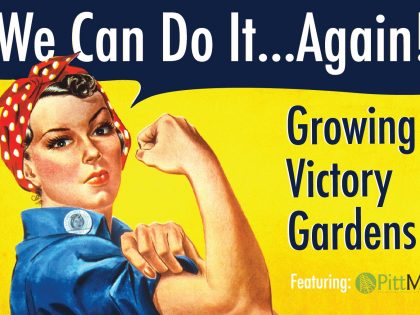 Wed April 29, 2020
Start: 12:30 pm — End: 1:15 pm
Explore the parallels between what Pittsburghers are confronting during COVID-19 and experiences from the past. Community partners will share their stories of adapting in the face of COVID-19 and History Center curators will provide a look at connected history.
VICTORY GARDENS
As people may be thinking about growing their own vegetables to lessen their need for grocery story visits, local company PittMoss is providing all of the supplies needed to create a 21st century Victory Garden. Join us for a conversation about how these homegrown gardens, popularized during World War II, made an impact in the past and can be successfully cultivated in the present.
ADMISSION
This virtual program is free, but a donation to the History Center is greatly appreciated.
The program will be presented on the Zoom platform, where conversation and questions from participants are encouraged. A link to the program will be sent after registration is completed.