Vilaya The Confluence | Fri April 13, 2018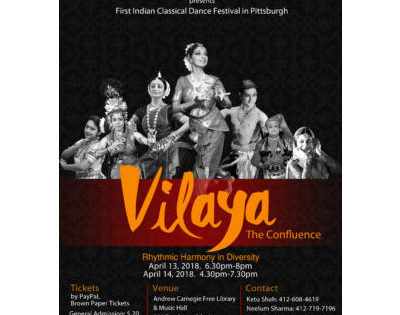 Fri April 13, 2018 — Sat April 14, 2018
Start: 6:30 pm
— End: 7:30 pm
Tickets on available at: http://bit.ly/2GRhM2N
Andrew Carnegie Free Library and Music Hall
Questions?
The First Indian classical dance festival in Pittsburgh
Nandanik Dance Troupe presents:
VILAYA- the Confluence.
Presenting Rhythmic harmony in diversity.
The first indian classical dance festival in Pittsburgh featuring dances, exhibition, panel discussions and more.
Dates:
April 13, 2018 – 6:30 PM, opening act by Mary Miller, "Pung cholom"- traditional drum dance by Jagannath Lairenjam
A panel discussion (7:30 – 8:30) called " What next?" where Dancers and Artists discuss the relevance of their traditional arts in the context of shifts in the audience, and social dynamics.
April 14, 2018 – 4:30 – 7:30 PM . Kathakali, Mohiniattam, Kathak, Bharatanatyam, Manipuri, Kuchipudi, Odissi will be presented on one platform by renowned artists and their troupes.
Dance exhibition open to general public on both days at the Lincoln Gallery adjacent to the hall. (Visit us www.nandanikdance.org)
This project is supported by the LIFT GRANT of Greater Pittsburgh Arts Council
Our idea is to create more awareness about the rich traditions of ancient art and culture of the local Indian community through dances, panel discussions, and exhibition.
The festival will feature both local and international dancers from USA, Canada, and India, presenting 6-7 different dance styles of Indian sub-continent through colorful costumes, ethnic music,traditional themes juxtaposed with contemporary ideas.
The festival will be open to audience encompassing all professions, ages and economic strata. Light refreshments will be available on a small donation.