The Roots of Resistance: Palestinian and Black American Liberation | Wed July 22, 2020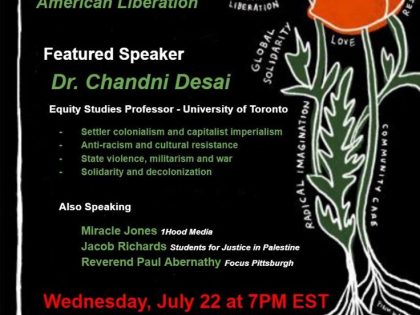 Wed July 22, 2020
Start: 7:00 pm — End: 8:30 pm
Join members of the Pittsburgh area community for a teach-in on supporting Palestinian and Black American human rights, ending military funding to Israel, and effective abolition. Let's learn how these issues are connected so we can invest in justice for our communities.
Speakers:
Rev. Paul Abernathy, Moderator is an Orthodox Christian Priest and the CEO of Neighborhood Resilience Project, a non-profit focused on Trauma-Informed Community Development located in Pittsburgh's Hill District. He holds a master's degree in Public and International Affairs from the University of Pittsburgh.
Dr. Chandni Desai is an Assistant Professor at the University of Toronto. She is working on her first book Revolutionary Circuits of Liberation: The Radical Tradition of Palestinian Resistance Culture and Internationalism. She has been involved in BDS movement for over a decade.
Miracle Jones is JD/MSW from the University of Pittsburgh and serves as the Director of Policy and Advocacy at 1Hood. Miracle is also a development coordinator with the Pittsburgh Mutual Aid Fund. She has worked in community organizing for racial justice and queer liberation. She is a Pittsburgh transplant by way of Atlanta and currently resides in the Hill District.
Jacob Richards – Co-President, Students for Justice in Palestine – U of Pittsburgh Chapter