SERVICES FAIR / FERIA DE SERVICIOS | Sun February 25, 2018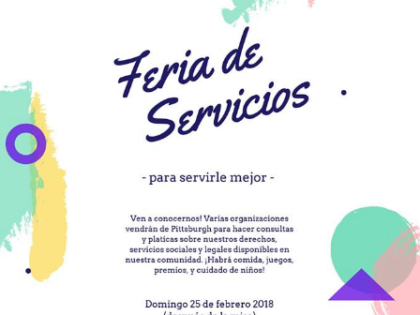 Sun February 25, 2018 — Sun February 25, 2018
Start: 1:00 pm — End: 4:00 pm
St. Stephen's Church
Questions?
Showcase of Services for Immigrants in Western PA
Friends of Farmworkers, Casa San Jose and Community Justice Project are organizing a services fair in Erie at the end of the month. There will be KYR sessions, immigration consultations and a showcase of many social services available to Western PA residents. Food, childcare, games and prizes are also included! Please contact Friends of Farmworkers (maliabadi@friendsfw.org) if you are interested in becoming a co-host at this event.
El domingo, 25 de febrero, justo despues de la misa, habra una Feria de Servicios aqui en el sotano de la iglesia. Varias organizaciones (incluso Amigos de Trabajadores Agricolas, Casa San Jose y CJP) vendran de Pittsburgh para hacer consultas y platicas sobre nuestros derechos, servicios sociales y legales que estan disponibles en nuestra comunidad. Habra comida, juegos, premios, y cuidado de ninos! No pierdan esta oportunidad para divertirse y recibir servicios de nuestros socios!