Pittsburgh Black Media Panel | Wed February 12, 2020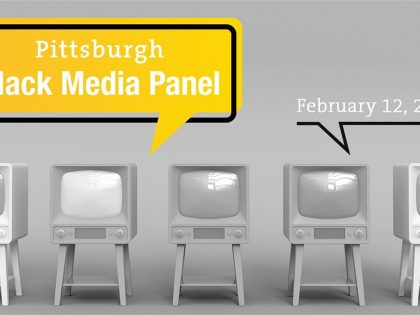 Wed February 12, 2020
Start: 6:30 pm — End: 9:30 pm
This panel-based discussion will bring together an esteemed group of Pittsburgh Black media professionals to highlight what local media organizations are getting right, and wrong, when covering stories involving the city's Black communities. The two-part panel, hosted by Pittsburgh artist and curator Tara Fay and PublicSource community correspondent Jourdan Hicks, will highlight the systematic racism and bias that can appear in reporting, while bringing awareness to the effects it can have on local Black communities in hopes of reducing bias in future reporting.
Panelists include Brian Cook, president of the Pittsburgh Black Media Federation; Brentin Mock, CityLab; Sarah Huny Young, Creative Director of Supreme Clientele and Event Producer of Darkness is Spreading; Tereneh Idia, contributor to Pittsburgh City Paper and PublicSource; Lynne Hayes-Freeland KDKA, KDKA-TV; J. Thomas Agnew, editor-in-chief of Jenesis Magazine and co-owner of BOOM Concepts; Markeea "Keea" Hart, Girls Running Shit; and Letrell Crittenden, lead author of the Pittsburgh Black Media Federation's diversity study.
The event will include a video testimonial/reflection station for members of the public to record a message for local media organizations. All are also encouraged to send questions for the panel to City Paper journalist Jordan Snowden, who will be compiling questions before the event on Twitter at @snowden_jordan. Local videographer Emmai Alaquiva, CEO of Ya Momz House, will be recording the event for those who cannot attend.
The event is free and open to all members of Pittsburgh media organizations and the public.