Lgbtq+ AAPI Day of Visibility 2020 | Sun May 31, 2020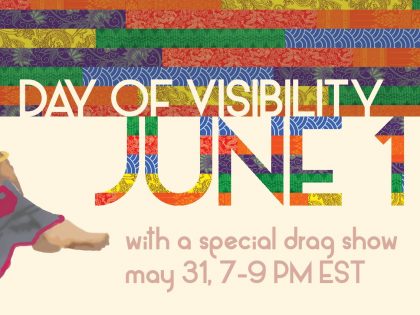 Sun May 31, 2020
Start: 7:00 pm — End: 9:00 pm
On June 1, join Rangoli Pittsburgh is celebrating LGBTQ+ AAPI Day of Visibility, and we're kicking it off with a special Asian drag show on May 31st – stay tuned for more details!
This year, due to the COVID-19 pandemic, we will be highlighting Asian and LGBTQ+ organizations and mutual aid funds that could use your support, as well as other resources in our LGBTQ+ AAPI Day of Visibility toolkit (link coming soon)!
We ask you to use the hashtags #QueerAndAsian #QAAPI #QAAPIDay to share your stories and histories, your selfies, your LGBTQ+ heroes, and your beautiful LGBTQ+ AAPI selves! Check out our LGBTQ+ AAPI Day of Visibility Toolkit for some inspiration (link coming soon) and follow us on Twitter, Instagram, and FB at @rangolipgh to participate on June 1!
–
We're celebrating LGBTQ+ AAPI Day of Visibility at the intersection of Asian American Pacific Islander Heritage Month and Pride Month.
We recognize that LGBTQ+ AAPI's have been a part of the fabric of the United States for several decades and have been instrumental in achieving civil rights progress. AAPI's were integral components of the LGBTQ+ community in San Francisco in the 1960's and participated in the Compton Cafeteria Riots in 1966, the first instance of LGBTQ+ resistance to police brutality, preceding even the famous Stonewall Riots.
We wish to recognize and thank these pioneers, whose early struggles to live as their authentic selves have paved the way for a safer and more accepting society today.
–
Visit rangolipittsburgh.com to learn more about Rangoli Pittsburgh and our mission to create community for and uplift the voices of LGBTQ+ South Asians in Pittsburgh.