Jasmine Green and Saïd presented by 1Hood Media | Tue July 21, 2020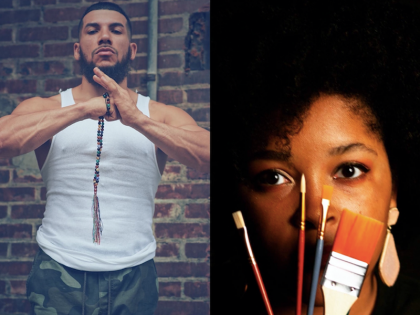 Tue July 21, 2020
Start: 7:00 pm — End: 8:00 pm
Free! Part of The Show Must Go On(line) Pittsburgh series.
This program features new works created for our new virtual world by 1Hood Media artists, Jasmine Green and Saïd. Their multi-genered works respond to the themes of Black Joy and Black Resilience. 1Hood Media is a collective of socially conscious artists and activists who utilize art to raise awareness of social justice issues around the world.
Featured Performers:
Jasmine Green is a Black poet and visual artist born and raised in Pittsburgh, Pennsylvania. Growing up in Pittsburgh, a city known for both being one of the most segregated major cities in the country as well as a city with the worst overall outcomes for Black Women in terms of health, happiness, and success, positive representations of Black Women were few and far in between. To try to counteract this, Jasmine strives to create artwork that could tell the story of black women in as bold and creative ways as possible. Jasmine is currently a member of 1Hood Media, an artist collective based in Pittsburgh that is dedicated to utilizing art as a means of raising awareness about social justice matters affecting people around the world.
Saïd, formerly known as Ayatollah Jaxx is a Toronto, ON transplant who resides in Pittsburgh, Pa. An accomplished MC who saw success during the "blog era" of hip hop, including a major label deal, and then a lucrative independent deal. Saïd stepped away from the music business to focus on education and activism where he's the Director Of Operations of the national arts and activism collective, 1Hood Media. Opting to use part of his last name (Al-Said), he's done away with the rap moniker after spending a decade away from the mic, and has since returned with a brand new album entitled "The Kid With The Golden Arms."
1Hood Media builds liberated communities through art, education, and social justice. We offer performance, written and visual art to connect communities and amplify messages. We offer consultation to artists seeking to establish a fruitful independent career and organizations who wish to establish a culture of equity and activism. In addition, 1Hood Media provides youth based training in media literacy and the creation of media via 1Hood Media Academy. Focused on social justice and training arts entrepreneurs, the Academy provides a platform for artists to tell their own stories and provides avenues for young people to utilize their own gifts and talents to secure financial sustainability. 1Hood Media also organizes and promotes educational and performance-based forums as a part of our programming. 1hood.org
The Show Must Go On(line) is made possible thanks to generous support from the Benter Foundation, The Heinz Endowments, the Juliet Lea Hillman Simonds Foundation, the Opportunity Fund, The Pittsburgh Foundation, and an Anonymous Foundation.