Immigrant + Refugee Artisans Showcase | Sat August 18, 2018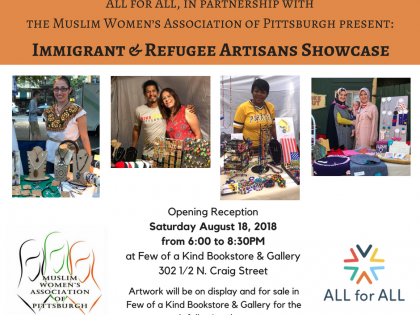 Sat August 18, 2018
Start: 6:00 pm
— End: 8:30 pm
This event is open to the public with a $5 suggested donation at the door.
Few of a Kind Bookstore and Gallery
Questions?
Meet and see, and buy the work of various immigrant + refugee artisans who've been selling at various local market events this summer through All for All!
On Saturday, August 18, 2018 from 6:00 to 8:30PM, the Muslim Women's Association of Pittsburgh (MWAP) will team up with All for All, an immigrant inclusion initiative, to exhibit handmade goods and jewelry by local immigrants. This one-night-only event will be held at Few of a Kind Bookstore & Gallery in North Oakland. The opening night will include demonstrations, a henna tattoo artist, and light refreshments. Artisans will be present to share their journey with gallery attendees. The exhibit will remain on display with select items on sale throughout September 2018. The event is free and open to the public, but there is a suggested $5 donation at the door. A portion of proceeds along with the donation will go to MWAP's shelter serving women and children.