How to Survive in America | Tue June 16, 2020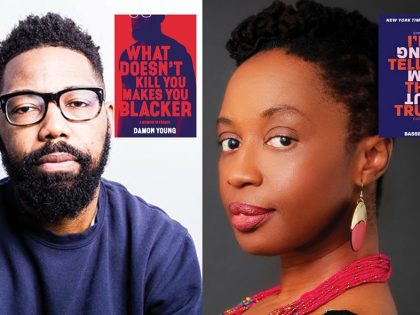 Tue June 16, 2020
Start: 7:00 pm — End: 8:00 pm
FREE! Part of The Show Must Go On(line) Pittsburgh Series.
Renowned authors Damon Young (What Doesn't Kill You Makes You Blacker) and Bassey Ikpi (I'm Telling the Truth but I'm Lying) will discuss the trials and tribulations of putting out their debut memoirs and other topics in this first installment of our new LIVE series "How to survive in America" hosted by Damon Young.
Damon Young Damon Young is a writer, critic, humorist, satirist, and professional Black person. He's a co-founder and editor in chief of VerySmartBrothas — coined "the blackest thing that ever happened to the internet" by The Washington Post — and a columnist for GQ. Damon's writing — which vacillates from anthropological satire and absurdist racial insights to razor sharp cultural critique and unflinching indictments of privilege and bias — has often generated praise from his peers. Ava DuVernay called his voice "clear and critical." Michael Eric Dyson said he's "one of the most important young voices in humor writing today." And Kiese Laymon called his work "the best of American twenty-first century writing." Damon's debut memoir — What Doesn't Kill You Makes You Blacker: A Memoir In Essays (Ecco/HarperCollins) — is a tragicomic exploration of the angsts, anxieties, and absurdities of existing while black in America, and won Barnes & Noble's 2019 Discover Award. It was also longlisted for the PEN America Diamonstein-Spielvogel Award, nominated for an NAACP Image Award, and is a Krause Essay Prize nominee. NPR, which named it one of the best books of 2019, called it an "outstanding collection of nonfiction." Damon currently resides in Pittsburgh's Northside, with his wife, two children, and his faithful bottles of Nexium and Lisinopril.
Bassey Ikpi is a Nigerian-American writer and mental health advocate. Ikpi embodies the brilliance of multifaceted creative minds. The writer, performer, and advocate is author of the instant New York Times bestselling book, I'm Telling the Truth, but I'm Lying (Harper Perennial 2019). An active voice in pop culture commentary and the mental health community, Bassey's essays have been published by The Root, Ebony, Huffington Post, and Essence, as well as the anthologies Rookie On Love and Who Will Speak For America. Bassey is the founder of The Siwe Project, a mental health organization that centers Black and Brown people in an effort to spread mental health awareness. A deeply personal collection of essays exploring Nigerian-American author Bassey Ikpi's experiences navigating Bipolar II and anxiety throughout the course of her life. Determined to learn from her experiences—and share them with others—Bassey became a mental health advocate and has spent the fourteen years since her diagnosis examining the ways mental health is inextricably intertwined with every facet of ourselves and our lives. Viscerally raw and honest, the result is an exploration of the stories we tell ourselves to make sense of who we are—and the ways, as honest as we try to be, each of these stories can also be a lie.