GlobalPittsburgh Holiday Painting Night | Sun December 15, 2019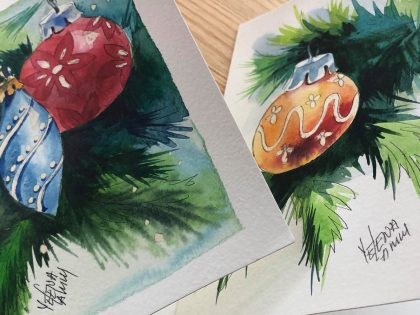 Sun December 15, 2019
Start: 4:00 pm — End: 7:00 pm
Looking for a way to explore your artistic side but don't know where to start? We have you covered! GlobalPittsburgh has a tradition of holiday art making and this year, we are partnering with Yelena Lamm, a Russian-born artist who is a member of the Associated Artists of Pittsburgh, Pittsburgh Society of Illustrators, and Pittsburgh Watercolor Society.
During this dynamic studio workshop, you'll learn some watercolor painting techniques and immediately apply them to create 2-3 vibrant pieces of art in a holiday postcard style that you will take home. Send them to your loved ones. What a special handmade gift this could make!
No previous skills are required — as long as you can hold a brush or a pencil, and are ready to have fun experimenting with new techniques!
During the workshop, each guest will create 2 or 3 watercolors.
Complete set of materials is provided.
Yelena is known for her hospitality – snacks and wine will be provided by the Studio but you are welcome to bring yours as well!
Space is limited to 15 people, don't miss out!