Forum on Attracting and Retaining Diverse Talent | Wed May 2, 2018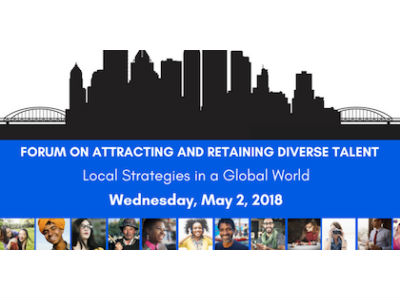 Wed May 2, 2018
Start: 7:30 am — End: 11:15 am
Energy Innovation Center
Local Strategies in a Global World
Join the World Affairs Council of Pittsburgh for a forum on the confluence of socio-economic and community benefits and challenges that need to be addressed to attract and retain a diverse workforce for Pittsburgh to become truly competitive on the local, national and global economy.
Speakers from different backgrounds will share their expertise on the economic impact of immigration in the region, the value and challenges of establishing minority workforce programs for local businesses, and recommendations for creating a diverse talent pipeline for the region.
Forum Panels: 
New American Economy's Report: The Role of Immigrants in Reviving the Great Lakes Region
Allegheny Conference's Inflection Point 2.0 Report- Workforce Needs and Current Barriers to Retaining Local Talent
Engaging Our Diverse Workforce – Inclusion & Attraction Strategies
From Policies to Practice: Pittsburgh Companies Share Their Experiences
What will participants  learn?
Programs, policies, and practices from Pittsburgh companies who have successfully made a commitment to recruiting a diverse workforce, including minority training programs and visa sponsorships
Data to support your business hiring decisions
Information about resources and best practices on inclusion strategies as well as attraction and retention of diverse talent
Insight and legal resources for recruiting international talent already residing in the USA
Current barriers to employment in Pittsburgh and recommended action steps to slow a workforce gap
Who should attend? 
Human Resources managers and staff interested in addressing hiring needs
Policy and decision makers in corporations and small businesses, non-profits, local government, and education
Individuals expanding diversity within the Pittsburgh area
Non profit leaders with an interest in bringing additional talent to Pittsburgh
A $30 registration fee covers the cost of breakfast and all materials. Discounts available for group tickets–more information on website.