Dr. Xia Chao's Refugee Education Workshop | Fri February 21, 2020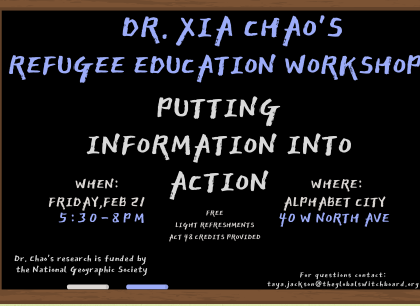 Fri February 21, 2020
Start: 5:30 pm — End: 8:00 pm
Alphabet City
Questions?
Dr. Xia Chao's Refugee Education Workshop is back! Please RSVP for Dr. Xia Chao's Refugee Education Workshop: Putting Information Into Action at Alphabet City (40 W North Ave) from 5:30-8PM on February 21st! This workshop will build on information presented at past workshops, and focus on specific strategies for teaching English learners. The workshop is free and Act 48 Credits will be provided. Please register and share with your networks!
Through a grant from the National Geographic Society, Dr. Chao has conducted research over the past several years that explores the experiences and narratives of local refugee communities including the Nepali, Karen, and Somali Bantu. This workshop series seeks to incorporate the findings of Dr. Chao's research in order to offer local educators insight into working with students from these communities and resources for supporting immigrant and refugee families in their interactions with the American educational system.
Putting Information Into Action will be held downstairs at Alphabet City. The space does have an elevator for anyone who needs it. For any questions or concerns, please feel free to contact me.