Brazilian Community Day 2019 | Fri October 4, 2019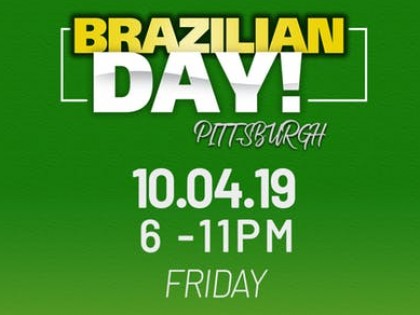 Fri October 4, 2019
Start: 6:00 pm — End: 11:00 pm
Brazilian Community Day 2019 is here! The day to come together and celebrate the Brazilian community in our home away from home, Pittsburgh!
Brazilian Community Day will be held on Friday, October 4th from 6pm to 11pm at the Rose Barn in beautiful North Park (Allison Park, PA-15101). The venue is easy to access and has lots of free parking!
The first of the two levels of the venue will be used for food, drinks, and our vendors; There will be Caipirinha, Feijoada by Casa Brasil, salgadinhos, and more!
Upstairs, entertainment featuring a Play Area for Kids (and a piñata!) and dancing with Timbeleza, Capoeira, Grupo Sampa da Gente, singers Kenia and Lily Abreu and talent show performers!
The celebration will include raffle baskets with the proceeds going to Project Amazonas, a non-profit organization dedicated to saving and serving the people and forest of the Amazon Rainforest. Raffle baskets include donations from Men's Wearhouse, Alex and Ani, Trader Joe's, Cinemark, and more.
We hope to see you there!