3rd Annual All for All Summit | Thu October 10, 2019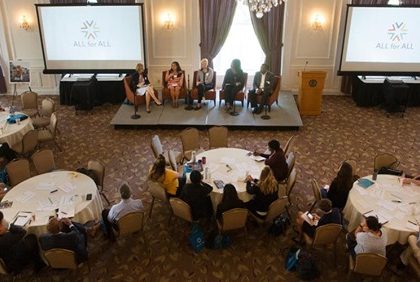 Thu October 10, 2019 — Sat October 12, 2019
Start: 1:00 pm
— End: 10:00 pm
More information on the Eventbrite page (click on RSVP here)!
Questions?
14127093418
Join All for All at their 3rd Annual Summit from Oct 10th-12th, an annual convening on the intersection of culture, community-building, and economic development!
Thursday 10/10, 1:00PM – 5:00PM: Neighborhood Tours
Hop on a trolley for a deep dive into Pittsburgh through the lens of immigrants, Black Americans, and youth on the intersection of economic development, community-building, and the arts. You can expect to visit community organizations and cultural landmarks and hear from local business owners, community leaders, and cultural creators on their Pittsburgh experience. The tours are curated in partnership with The Global Switchboard.
Friday 10/11, 8:00AM – 3:30PM: Interactive Forum
Day-long gathering on the role of immigrants in our community and local economy, as well as the intersection of immigrant inclusion in the arts, community-building, and economic development.
Founder of Yummyholic , Jasmine Cho, will Emcee and lead us through a day of speakers, performances, and topics that challenge and inspire. Watch her amazing TED Talk.
What to Expect: Hear from national and local leaders, learn through action-oriented workshops, network with new contacts from across the region, and celebrate culture. Sessions include The Changing Face of Our Workforce, Using Language Access Services, and How to Build a More Welcoming US.
The forum will kickoff with a fireside chat led by Kelly Strayhorn Theater Executive Director janera solomon in conversation with Manchester Bidwell Corporation CEO Bill Strickland. Additional local speakers include: Uber Head of Safety Nat Beuse, Allegheny Conference on Community Development Director of Economic Inclusion and Yngblkpgh Founder Brian Burley, Global Wordsmiths Founder and Director Mary Jayne McCullough, The Ellis School Director of Equity & Inclusion Ciera Young, Allegheny Health Network Doula & Community Health Worker Aurora Ortiz, and community advocate Satvika Neti.
Who Should Attend: Whether you consider yourself an expert or novice to the work of building communities and spaces that are inclusive of immigrants, the convening will deepen your understanding of why this work matters in Pittsburgh and what steps you can take in your day to day work and community.
Saturday 10/12, 3:00PM – 10:00PM: Block Party
Dance to live music performed by local and international artists. Eat delicious food from around the world. Check out work made by local artisans. Presented in partnership with Pete Spynda of Pandemic Dance Party and Pittonkatonk, and Kelly Strayhorn Theater. RSVP at https://www.facebook.com/events/1417000578455027/.
In addition to local artists, special guests from around the world:
Mourning [A] BLKstar
Ram Haiti
Cumbia River Band
All activities are Pay What Makes You Happy! Not sure what to give? Click on each ticket option for a suggested donation.