Yom HaShoah Commemoration | Thu April 12, 2018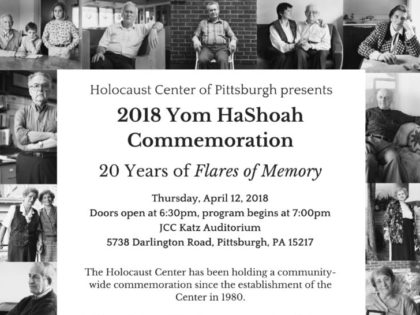 Thu April 12, 2018
Start: 6:30 pm
JCC Katz Auditorium
Questions?
(412) 939-7289
Join us for Holocaust Remembrance Day, a day to remember the six-million Jewish victims of the Holocaust
The Holocaust Center has been holding a community-wide commemoration since the establishment of the Center in 1980.
This year's Yom HaShoah commemoration will honor local survivors and their families. The program will include selections from Holocaust Center of Pittsburgh's publication Flares of Memory.
Yom HaShoah was inaugurated in 1959, anchored in a law signed by then Israeli Prime Minister David Ben-Gurion and Israeli President Yitzhak Ben-Zvi.  The original proposal was to hold Yom HaShoah on the 14th of the Jewish month of Nisan, the anniversary of the Warsaw ghetto uprising (April 19, 1943), but this was problematic because the 14th of Nisan is the day immediately before the start of Passover.  Thus, the date was moved to the 27th of Nisan, which is eight days before Yom Ha'atzma'ut, or Israeli Independence Day.  Because the 27th of Nisan changes each year on the secular calendar, the date of the commemoration varies year to year.
Although this event is free and open to the public, registration is encouraged.