University of Pittsburgh VSA Presents Susan Lieu | Fri January 10, 2020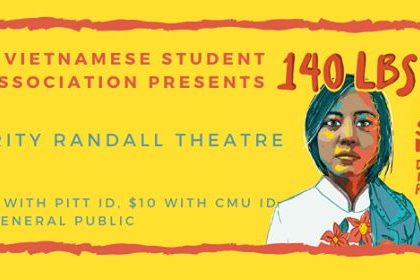 Fri January 10, 2020
Start: 7:00 pm — End: 9:00 pm
The Vietnamese Student Association presents: Susan Lieu x 140 LBS: HOW BEAUTY KILLED MY MOTHER.
Susan Lieu is a Vietnamese-American playwright, performer, director and activist. "140 LBS" is an emotional solo performance written and performed by Susan and directed by Sarah Prokalob that tells the story of Susan's mother who passed away in surgery due to medical malpractice. The performance brings to awareness "the multi-generational immigrant experience, body insecurity and shame, repression and subsequent examination of personal loss, lack of accountability in the medical system, and the Vietnamese folkloric practice of spirit channeling." Susan is currently on a national tour to bring this story into the lives of others and to start a discussion on important topics relevant to today's society.
VSA has collaborated with the Office of Diversity and Inclusion, the Department of Theater Arts, the Outside of the Classroom Curriculum (OCC), the Asian Studies Center, the Gender Sexuality and Women's Studies Department, and the English Department to be a part of Susan's National Tour. "140 LBS" will premier in Pittsburgh at the Charity Randall Theatre on January 10, 2020 at 7:00 PM.
Tickets will be free for Pitt students, faculty, and staff, $10 for Carnegie Mellon University students, faculty, and staff, and $15 for the general public. Refunds will be offered up to 1 day before the event, however, Eventbrite's fee is nonrefundable and will not be included.
PLEASE BRING A VALID UNIVERSITY ISSUED ID AS WE WILL BE CHECKING FOR THEM.
All proceeds and donations from this performance will go towards Asylum Access, a charity chosen by Susan. Asylum Access brings human rights to refugees though legal empowerment, policy reform and global systems change. They provide the tools for refugees to advocate for themselves and encourage host governments to expand the rights and opportunities for refugees. To learn more about this organization, please visit their website: https://asylumaccess.org/.
Snacks and refreshments will be provided by Pink Box Bakery.
TICKETS: https://www.eventbrite.com/e/pitt-vsa-susan-lieu-x-140-lbs-tickets-82649209009
Details:
Date: January 10, 2020
TIme: 7:00 – 9:00 PM
Location: Charity Randall Theater
Free for Pitt students, faculty and staff, $10 CMU students, faculty, and staff, $15 general public