Tutsi Genocide Survivor To Tell Her Story | Tue April 3, 2018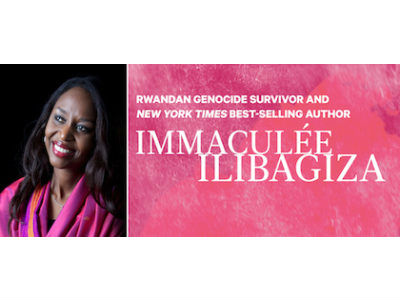 Tue April 3, 2018
Start: 7:00 pm — End: 10:00 pm
Duquesne Union, 4th Floor Ballroom
Questions?
412-396-2651
Immaculée Ilibagiza will share her story of Faith, Hope and Forgiveness
Duquesne University and the Center for African Studies is proud to welcome special guest Immaculée Ilibagiza to campus for a powerful presentation.
For three terrifying months during the horrific 1994 Tutsi genocide in Rwanda, Ilibagiza and seven other women hid for their lives in the tiny, secret bathroom of a local minister. During that time, an estimated 800,000 people—including nearly all of Ilibagiza's family—were brutally murdered.
Ilibagiza not only survived the genocide, but emerged as a fierce advocate for peace and reconciliation. She has published several books, including the New York Times best-selling  Left to Tell: Discovering God Amidst the Rwandan Holocaust.
Join us for this free event, and hear first-hand Ilibagiza's incredible story about the power of forgiveness.
While attendance is free, an RSVP is required.