Rosamaria Cristello | Digital Speaker Series | Thu August 6, 2020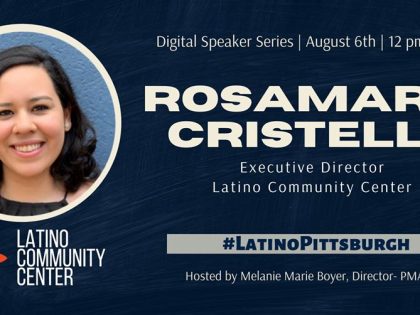 Thu August 6, 2020
Start: 12:00 pm — End: 1:00 pm
Join us for a chat with Rosamaria Cristello, Executive Director and founder of the Latino Community Center. An immigrant herself, Rosamaria has dedicated herself to a life of helping others, both at home and abroad. As executive director of Pittsburgh Latino Community Center, she has focused the center's efforts on Supporting Our Youth Pittsburgh, providing after-school programs for elementary and middle school children.
The conversation will take place LIVE on our Facebook page: Pittsburgh Metropolitan Area Hispanic Chamber of Commerce and will include a Q&A portion.
Rosamaria is a Pittsburgh's 40 under 40 award recipient who serves on several Boards and Advisory Boards, including the Women and Girls Foundation and the Office of Child Development under the University of Pittsburgh. She is member of the Immigrants & Internationals Advisory Council for the Allegheny County Department of Human Services. Rosamaria has served on the Mayor's Welcoming Pittsburgh Steering Committee, the Allegheny County and City of Pittsburgh Complete Count Committee for the 2020 Census, the Allegheny County Children's Fund Working group, the All for All Steering Committee, and the Squirrel Hill Health Center Board of Directors.
_________________________________________
The #LatinoPittsburgh Digital Speaker Series is an initiative of the Pittsburgh Metropolitan Area Hispanic Chamber of Commerce. Its goals are to share relevant information, inspire growth and foster opportunity.
Speakers include community leaders and member as well as other individuals who have a positive impact not only on the Hispanic community, but Pittsburgh as a region.