Home Sweet Home: A benefit for Hello Neighbor | Sat September 28, 2019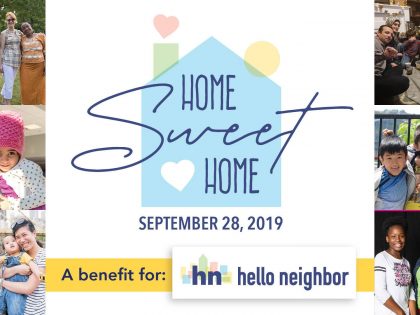 Sat September 28, 2019 — Sat September 28, 2019
Start: 4:00 pm — End: 7:00 pm
You're invited to our inaugural fundraiser, Home Sweet Home!
Please join us to celebrate and support our mentees, mentors, and future cohorts at our fundraiser on Saturday, September 28th at the Union Project from 4:00-7:00 pm.
Home Sweet Home will celebrate refugee home chefs along with local restaurants and bakeries, showcasing their sweet treats. Come hungry!
Sweet treats will be provided by refugee women who are a part of Hello Neighbor's mentorship program. Each woman is being paid a living wage and receiving a portion of proceeds.
There will be baked goods available from: Afghanistan, Bhutan, Democratic Republic of the Congo, Iraq, Myanmar and Syria.
We are also excited to welcome local businesses who have a commitment to making Pittsburgh a welcoming place to live. They will be providing a signature sweet treat of their own! Our list of vendors is being updated and currently includes: Scratch FNB, Cafe Raymond, Enrico's Biscotti, TRYP Hotel and more!