Associate, Episode 2 | Wed August 5, 2020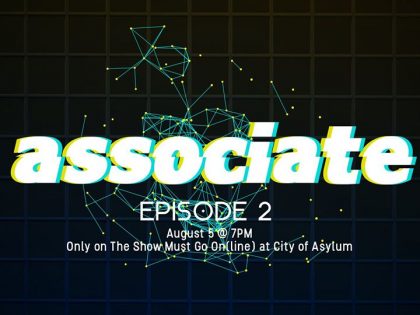 Wed August 5, 2020
Start: 7:00 pm — End: 8:00 pm
Be part of the ASSOCIATION.
August 5 at 7 PM on City of Asylum's The Show Must Go On(line), RealTime will host another swim in the subconscious with Episode 2 of our new crowdsourced creative experience, ASSOCIATE. Once again we'll bring together four award-winning artists, three of whom will start us off by using free association to mine their subconscious in real time, with help from the online audience. Collectively we'll all create a vibrant pile of imagery and new connections. We'll spend some time showcasing a work from each artist, exploring the role that the subconscious had in its creation.
And finally, the last of the four will appear: they will have been creating a brand-new piece in real time using the collective associations from early in the show. At the end of the hour, this Prime Associator will unveil his original work, created for and with YOU!
ASSOCIATE Episode 2's artist "associators" include Pittsburgh's TJ Young, playwright; jazz musician and Pitt professor Dr. Aaron Johnson; artist/ illustrator Marcel L. Walker; and interdisciplinary theater artist Zell Miller, III, live from Austin, TX!
Equal parts talk show, game show, happening and salon, ASSOCIATE brings artists and audience together in the process of creation, in real time.